Risk-based sup­p­ly chain management
Sus­taina­bi­li­ty in the tex­ti­le indus­try means much more than just pro­ces­sing eco­lo­gi­cal­ly pro­du­ced cot­ton. It poses dif­fe­rent chal­lenges for com­pa­nies at every stage of the value chain. This includes, among other things, com­pli­ance with human rights due dili­gence or the avo­id­ance of nega­ti­ve sources of envi­ron­men­tal impact along the sup­p­ly chain.
We take a risk-based approach to our sup­p­ly chain manage­ment. The basis for mea­su­res and requi­re­ments is the coun­try risk ana­ly­sis. Depen­ding on the level of coun­try risk, sup­pli­ers must meet cer­tain requi­re­ments in order to work with us.
Raw fabric
We buy about a third of our raw fabric from just next door: At a spin­ning and wea­ving mill that belon­ged to our com­pa­ny until 2011 and is only two rol­ling doors away. → learn more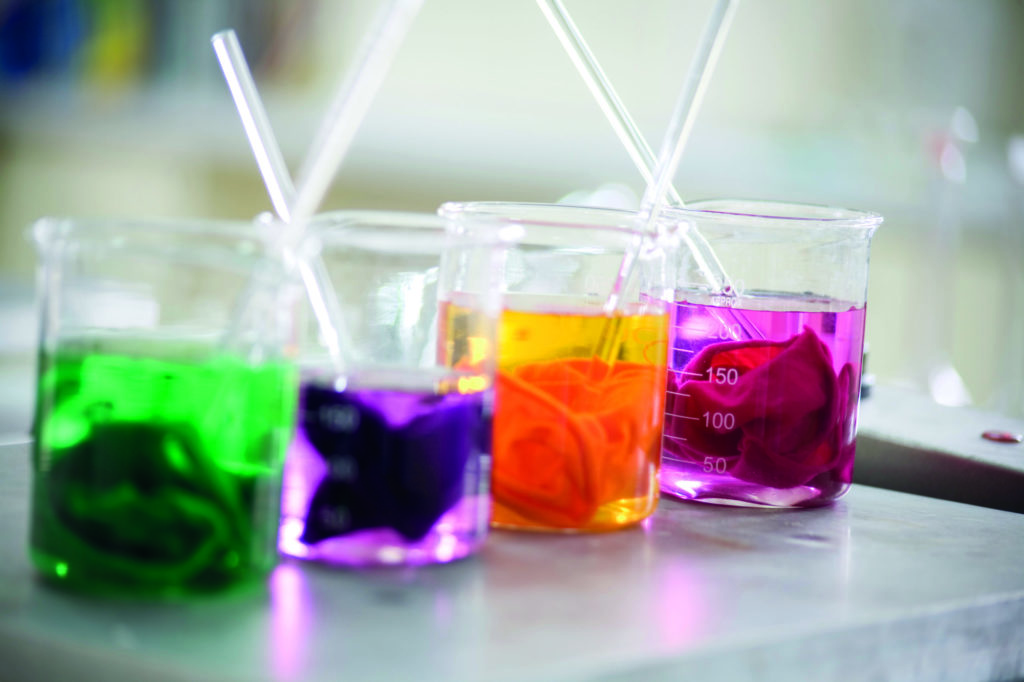 Dyes and auxiliaries
Wit­hout dyes, the­re can be no colou­red, high-per­for­mance fabrics – the sel­ec­tion and use of the neces­sa­ry che­mi­cals are car­ri­ed out by us with spe­cial care and due con­side­ra­ti­on of eco­lo­gi­cal standards.
Ket­tel­hack par­ti­ci­pa­tes in the Part­ner­ship Pro­ject on the topic of living wages. Within the frame­work of a Living Wage Lab,…
Ket­tel­hack par­ti­ci­pa­tes in the Tex­ti­le Part­ner­ship Initia­ti­ve to streng­then inter­nal fac­to­ry grie­van­ce mechanisms.
With the review pro­cess, the Tex­ti­le Part­ner­ship has deve­lo­ped its own imple­men­ta­ti­on stan­dard and report­ing for­mat for due dili­gence. The…
We are con­vin­ced that only the joint initia­ti­ve of all stake­hol­ders in the tex­ti­le value chain can lead to a holi­stic imple­men­ta­ti­on of sus­taina­bi­li­ty in the tex­ti­le industry.
That is why Ket­tel­hack joi­n­ed the Part­ner­ship for Sus­tainable Tex­ti­les in 2015. As part of our mem­ber­ship, we get invol­ved, for exam­p­le, by par­ti­ci­pa­ting in various working groups or through bila­te­ral exch­an­ge with other mem­bers.
→ Learn more about our membership
About this report
This digi­tal sus­taina­bi­li­ty report meets the requi­re­ments of the EMAS Regu­la­ti­on and com­pli­es with the requi­re­ments of GRI 4 of the Glo­bal Report­ing Initiative.