Top qua­li­ty
Edu­ca­ti­on and training
It takes more than know­ledge and skill to deli­ver top per­for­mance, exploit poten­ti­al and deve­lop crea­ti­ve solu­ti­ons. We want to sow enthu­si­asm, plant trust and cul­ti­va­te free space.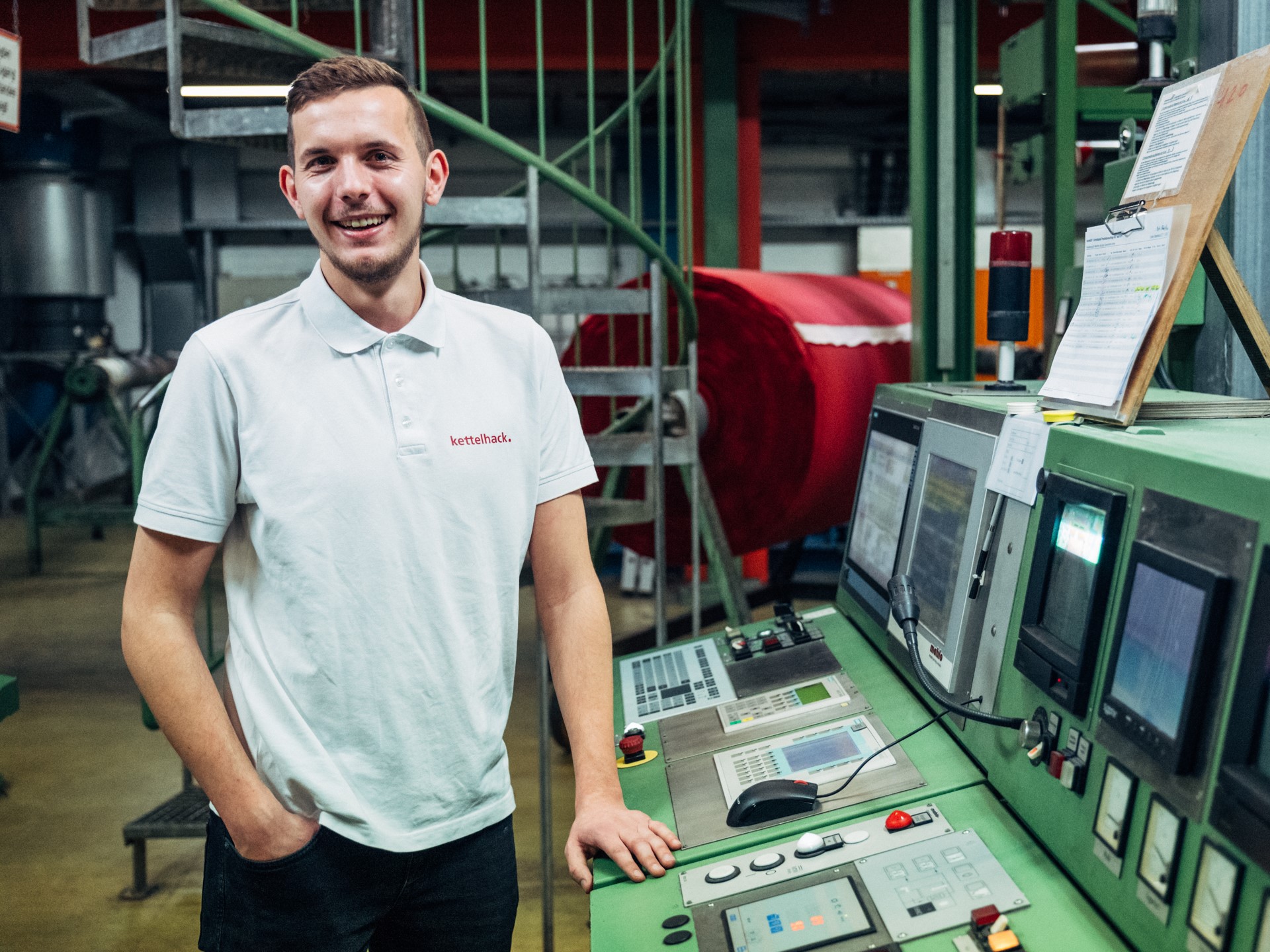 We sup­port our employees in their trai­ning and fur­ther edu­ca­ti­on – becau­se it has also beco­me noti­ce­ab­ly more dif­fi­cult to recruit skil­led workers and trai­nees in the tex­ti­le indus­try in recent years. At Ket­tel­hack, we take the task of crea­ting an atmo­sphe­re in which employees feel com­for­ta­ble and can deve­lop, all the more serious­ly. We are plea­sed that we have been able to bring such com­mit­ted and enthu­si­a­stic juni­or staff on board in recent years!
Over­view of our voca­tio­nal trai­ning measures
The­re were more than 100 trai­ning ses­si­ons bet­ween the 2017/2018 and the 2019/2020 finan­cial years. In addi­ti­on to many tech­ni­cal trai­ning mea­su­res, trai­ning was also pro­vi­ded on the topics of sus­taina­bi­li­ty, occu­pa­tio­nal health & safe­ty and employee representation/works coun­cil work.
Tech­ni­cal Training
| | | |
| --- | --- | --- |
| Num­ber of measures | Share of male participants | Share of fema­le participants |
| 84 | 57 % | 43 % |
Occu­pa­tio­nal health & safety
Employee repre­sen­ta­ti­on
Edu­ca­ti­on and training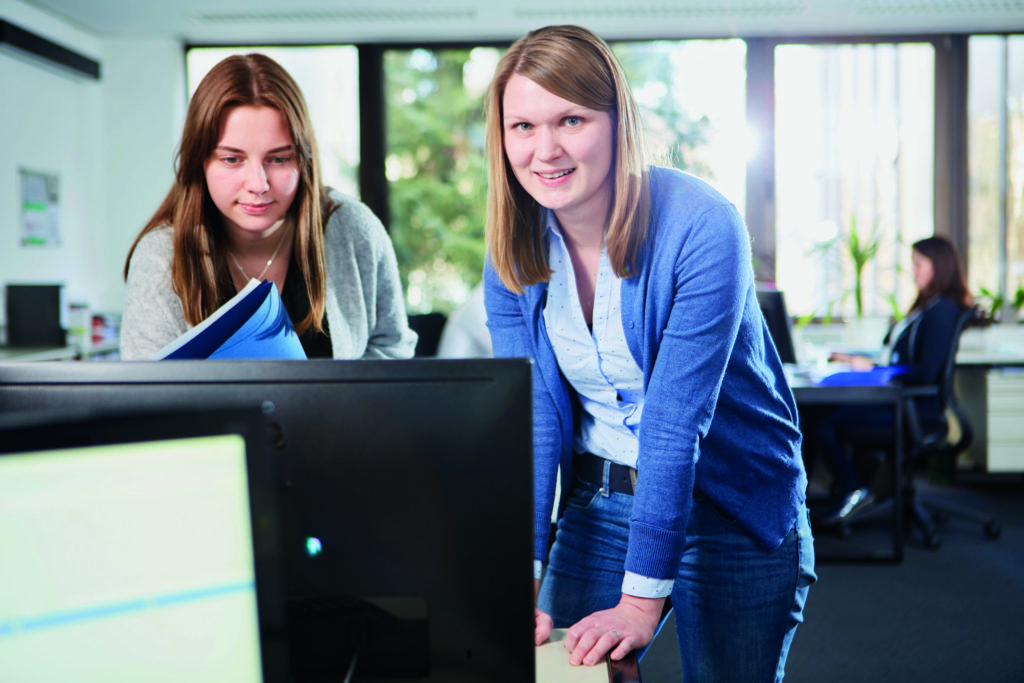 App­ren­ti­ce­ship at Kettelhack

Pro­mo­ting young talent is important to us. Even in the tex­ti­le indus­try it has beco­me noti­ce­ab­ly more dif­fi­cult in recent years to recruit spe­cia­lists and app­ren­ti­ces. So it's all more important for Ket­tel­hack to crea­te an atmo­sphe­re in which employees feel com­for­ta­ble, whe­re they can develop.
Our app­ren­ti­ces gain a com­pre­hen­si­ve insight into the com­pa­ny and their pro­fes­si­on. The pro­fes­si­ons in which we train are as diver­se as our com­pa­ny. Our app­ren­ti­ces beco­me pro­duct finis­hers spe­cia­li­sing in tex­ti­les, tex­ti­le labo­ra­to­ry assistants, mecha­tro­nics tech­ni­ci­ans, indus­tri­al clerks or warehouse logi­stics spe­cia­lists. High­ly-qua­li­fied trai­ning, clo­se super­vi­si­on by the trai­ners and col­le­agues and the tar­ge­ted pro­mo­ti­on of young talent are important ingre­di­ents in our reci­pe for suc­cess. The result is some­thing to be proud of!
young peo­p­le have been com­ple­ting their app­ren­ti­ce­ship with us!
Vivi­en Wall­mey­er – Tex­ti­le labo­ra­to­ry assistant
The Nation's Best in 2018!
Vivi­en Wall­mey­er not only pas­sed her app­ren­ti­ce­ship as a tex­ti­le lab tech­ni­ci­an with fly­ing colours – she even came top of the class in her app­ren­ti­ce­ship! This makes our young talent one of the 213 top app­ren­ti­ces in the Repu­blic, who was hono­u­red by Fede­ral Pre­si­dent Frank-Wal­ter Stein­mei­er in Ber­lin at the end of 2018.
"Even during the tri­al intern­ship in Kettelhack's labo­ra­to­ry, I noti­ced that: The che­mis­try is right here. Not only is the work fun, the team is gre­at too. I felt like I was in good hands from the first day. What I like most about my job is that it offers so much varie­ty. Thanks to my A‑levels and good gra­des at voca­tio­nal school, I was able to shor­ten my app­ren­ti­ce­ship trai­ning by one year. To be award­ed the best of the year – that makes my col­le­agues proud, too. And what is just as gre­at: After pas­sing the exam, I was taken on direct­ly. Do you want to go on to uni­ver­si­ty or pur­sue fur­ther edu­ca­ti­on? I would like to take a litt­le more time with this decis­i­on. It's good to know that Ket­tel­hack will sup­port me in this regard."
Akhtar Elham – Warehouse Clerk
App­ren­ti­ce­ship in the new place to call home.
When Akhtar Elham fled from Afgha­ni­stan to Ger­ma­ny in 2016, he did not know a word of Ger­man. The big­gest hurd­le was fin­ding an app­ren­ti­ce­ship place. It was clear to him that this was the only way he could gain a foot­hold as a refu­gee and build a future for hims­elf in Ger­ma­ny. Akhtar then came to Ket­tel­hack just one year later through a con­ver­sa­ti­on with one of our trai­nees at our stand at the trai­ning fair in Rhei­ne. A one-year ent­ry-level qua­li­fi­ca­ti­on in the pro­fes­sio­nal disci­pli­ne of finis­hing got the ball rol­ling for him. We took care of Ger­man cour­ses so that he could fol­low the les­sons at the voca­tio­nal school bet­ter. A team of dif­fe­rent staff mem­bers kept in touch with the school and the aut­ho­ri­ties, work­ed through the rules of the law on recei­ving for­eign natio­nals and hand­ling their resi­dence, so that the resi­dence per­mit could be exten­ded at regu­lar inter­vals. Mean­while, Akhtar dis­co­ver­ed his inte­rest in logi­stics. Wit­hout fur­ther ado, we deci­ded to offer him trai­ning as a warehouse logi­stics spe­cia­list. The best decis­i­on for ever­yo­ne – through a clo­se-knit pro­cess of exch­an­ge in the depart­ment and his inte­gra­ti­on into a small-sca­le team, not only did his lan­guage skills grow very quick­ly, but also his self-con­fi­dence. We are plea­sed that, in Akhtar, we were able to gain an employee who con­sci­en­tious­ly takes on his tasks and has beco­me a part of our Ket­tel­hack team with a gre­at sen­se of commitment.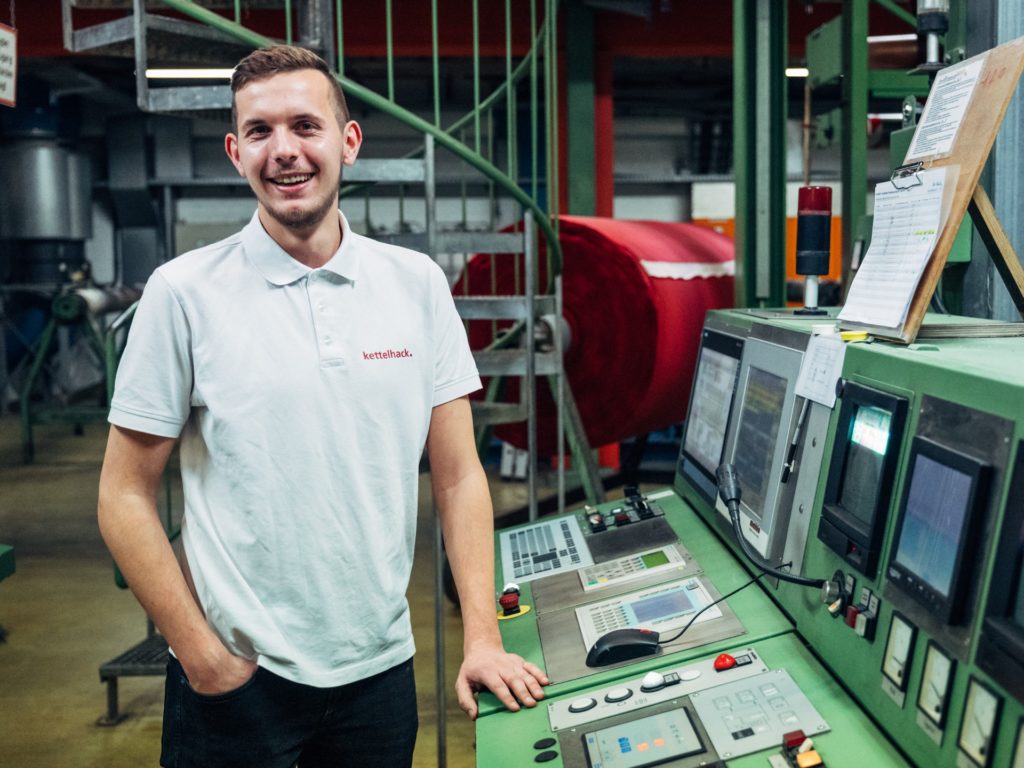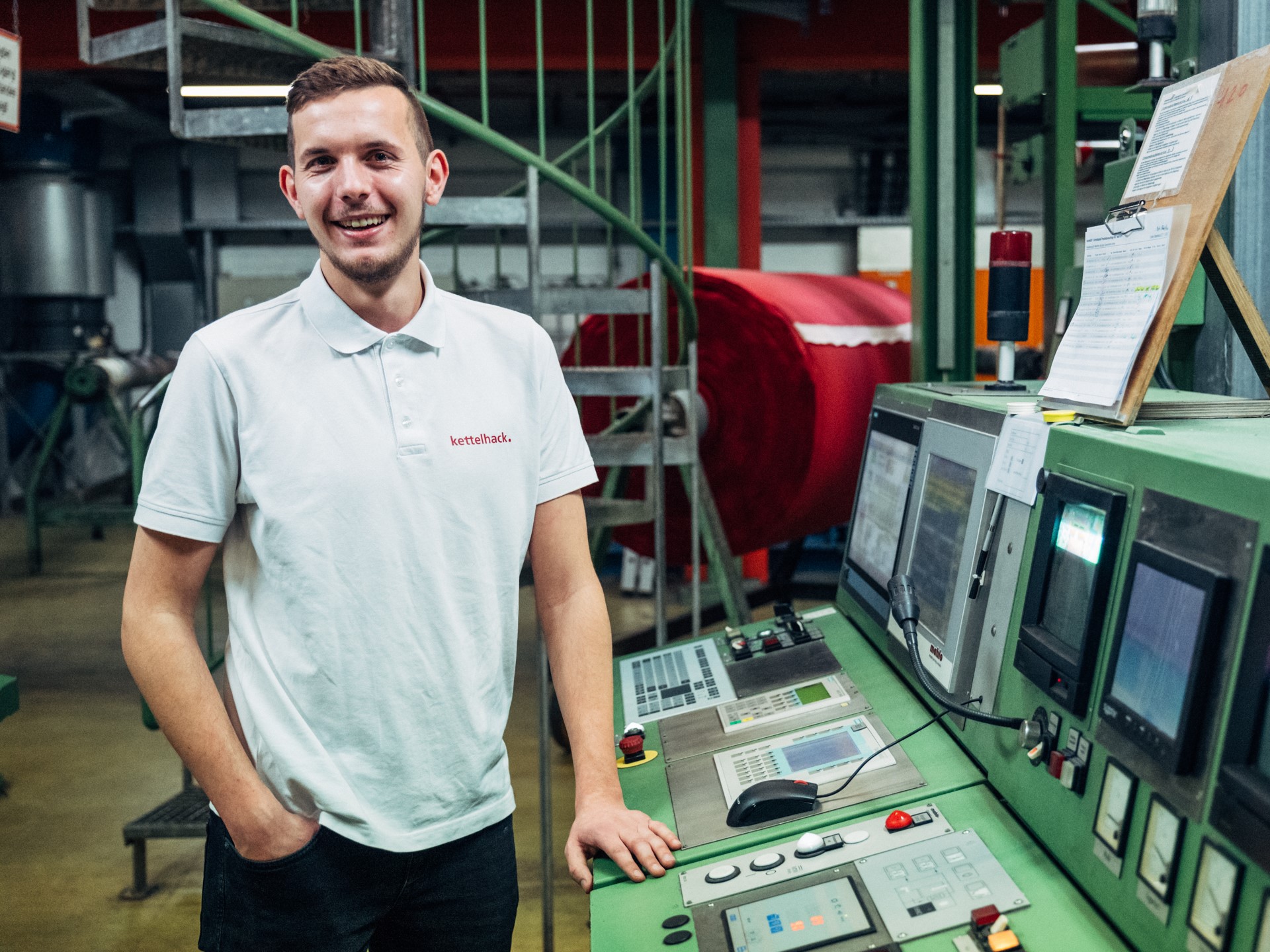 Nico Trin­deit­mar – Pro­duct Finis­her, Textiles
The Nation's Best in 2020!
Nico Trin­deit­mar star­ted his app­ren­ti­ce­ship as a tex­ti­le pro­duct finis­her with us and was very enthu­si­a­stic right from the start. The "tex­ti­le fever" quick­ly took hold of him. No won­der, becau­se he alre­a­dy comes from a tex­ti­le-loving fami­ly. Nico is also cha­rac­te­ri­sed by a gre­at wil­ling­ness to learn and unbrid­led curio­si­ty – so he takes every oppor­tu­ni­ty to expand his know­ledge. It is all the more gra­ti­fy­ing that he was reward­ed for his dili­gence and com­mit­ment. The Cham­ber of Indus­try and Com­mer­ce award­ed Nico the title of Best App­ren­ti­ce in Ger­ma­ny in 2020. "In terms of my care­er pro­gres­si­on, I see this award as an incen­ti­ve to pur­sue fur­ther edu­ca­ti­on with suc­cess". His next goal is to train as an indus­tri­al fore­man – in tex­ti­les, of course!
Fur­ther artic­les on the topic
Working tog­e­ther for a "good tomor­row": Our sus­tainable cor­po­ra­te cul­tu­re is an important cornerstone …
Our grea­test asset: It's not only first-class pro­ducts and deca­des of expertise.
In order to achie­ve top per­for­mance, exploit poten­ti­al and deve­lop crea­ti­ve solu­ti­ons, it takes more than…